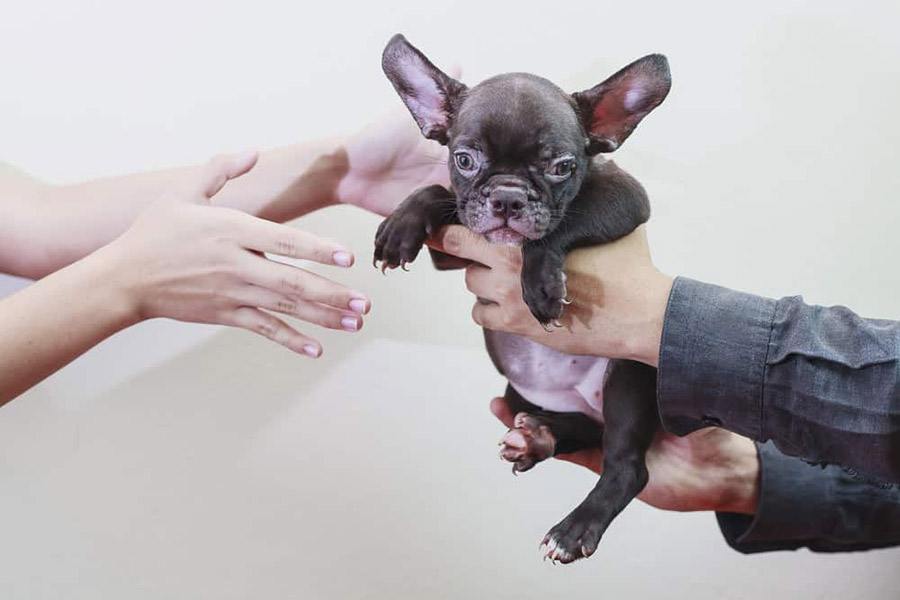 Marketplace dogs are extremely popular nowadays. Buying an animal via the Internet is usually easy. There is also an enormous amount of supply.
But do you know what you get in your house?
What should you pay attention to with Internet advertisements?
And what are safe alternatives for this?
Read all about the Modern Internet Trends around Pets
Marketplace dogs for sale
Marketplace dogs are offered for sale. In recent years, everything has become available via the Internet. Our pets as well.
Yet this is a worrying trend. In an open medium such as the Internet you have little reliability, no social control and no guarantee of quality.
What we often see is that behind this is malicious breeding practices.
The dogs that come from here are being numbers produced simultaneously from the same parent animals. These parents are not medically supported or inspected before mating takes place.
As a result, the puppies are often weak in constitution. Also, the little ones are not vaccinated and receive no medical help or vaccinations.
It seems very good to take a puppy out of this situation. Unfortunately, the bread breeder, as we call it, still earns money from this so that he can continue his nasty practices.
With all its consequences.
Dogs are also often offered from private individuals. This can be puppies from an (un) planned litter for fun, but also adult dogs.
Read also: Buy puppy
Marketplace dogs relocation
We often mention the sale of every dog ​​that already has a home has had a reassignment. This is also the case with the dogs offered on the Internet.
There are all kinds of reasons why people (want to) get rid of their dog after a while. Money, time, behavioral or health problems. You name it.
Sometimes these dogs are not accepted in a shelter. And if the shelter accepts the dog, then there are one-off costs for its maintenance. Not everyone wants to pay these costs.
Also, there is not always a foundation, breeder or breed club available to which one can turn.
That is why people turn to the Internet to give their dog a new home. [19659002] Have you become interested in a puppy or adult dog from an online sales website? Then there are a number of points of interest.
Points of attention for Internet advertisements
Actually you were not looking for a dog at all. But you were browsing the Internet and came across an irresistibly cute litter.
Or maybe you think you have found a good address for the purchase of a four-legged friend.
In any case, when buying on the Internet you need very be wary. Not only for yourself, but also for the (future) dog.
If the placement at your home is unsuccessful, this can be very traumatic for him. Which makes the chance of a next successful house considerably smaller for him…
Therefore, when purchasing a marketplace for dogs, or dogs via the Internet, you should always take the following points into account.
Point 1: Social control
Always provide some form of social control before purchasing an animal from a stranger. Does your vet know these people? Or is it an acquaintance of an acquaintance? If you only have a reference about their living situation and behavior.
Of course, this does not guarantee a smooth course. But it can slightly reduce the chance of problems. Because what if one does not keep to their part of the agreements? Whether your dog appears sick or injured?
Point 2: Time investment
In addition, you must be able to get to know the dog sufficiently for a successful placement. Do the providers give you the opportunity to come by several times? And do they take the time to provide you with information?
Point 3: Costs
Dogs on the Internet are always cheaper to buy than a dog from a breeder. However, they are not always cheaper than a dog from an approved shelter.
Therefore read well and make good agreements about the costs. What does this prize entail?
Has the dog been vaccinated? And do you get stuff from him?
Point 4: Documents
Always prepare a purchase and transfer document when purchasing the dog. Include your details, the details of the dog (including chip number) and the details of the seller. Then you clearly write out what agreements have been made.
Some examples of this are:
Medical history of the dog
Exercise period of several weeks
Specification of the costs and how they are met

19659043] Which rules both parties must adhere to during and after the purchase / sale

Both parties receive a copy of this document, which is signed by the buyer and seller. Always state the place and date of the signature.

Point 5: Reporting

The latter is a hard, but simple rule. If you do not trust everything, please report this.

If you suspect a rogue breeder, report this to the Dutch Food and Consumer Product Safety Authority. If you suspect abuse, you can report this to Meldpunt 144 and the local police.

Always inform the sales website.

Where can I safely buy a dog? the adoption through a foundation or the purchase from a pet store or garden center to be treated critically.

A pet store or garden center does not guarantee a healthy animal, although you have more guarantee than with the Internet. Unfortunately, many a pet store chain is known that it is not so strict with the rules regarding animal health and welfare.

Where does that go with the world, can you no longer buy a dog?

where you can buy a four-legged friend in a good way. Not only good for yourself, but also for our modern dog population.

Relocators will be there anytime, anywhere. You can adopt these through a breed club or shelter.

If you want a healthy dog ​​of a particular breed, always turn to a breeder that is approved by the Raad van Beheer.

Unfortunately, when breeding pedigree dogs specific health problems for. The parent animals are required to be tested on some of these, this differs per breed.

But if you buy a dog via the Internet, you often have no warranty at all via the seller. The current population all needs a home, but in a safe way!